Trivia Contest #46
December 27, 2004:
The results of Reel Classics' forty-sixth Trivia Contest are now official. The winners were chosen randomly from over 350 correct entries and will be receiving their prize in the mail shortly. Congratulations to the following Reel Classics patrons (and if you didn't win this time, keep visiting Reel Classics so you don't miss the next giveaway):
Trivia Question:
Peter O'Toole received two of his seven Oscar nominations for playing what one character in two different films?
Answer:
King Henry II (in BECKET (1964) and THE LION IN WINTER (1968).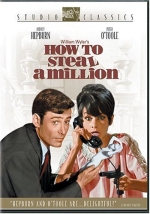 Answer location:
The answer to this question could be found on page 1 of the Peter O'Toole section at Reel Classics.
Winners:
James Moyers
Iowa City, Iowa
Abby Lawson
Westerville, Ohio
Kimberly Crellin
Mesa, Arizona
April Bever
Broken Arrow Oklahoma
Michael Miller
Van Nuys, California
Prize:
A DVD of HOW TO STEAL A MILLION (1966) courtesy Fox Home Entertainment.
The winners will be notified by email, and prizes will be sent out shortly thereafter, following confirmation of delivery information.
Special thanks to Fox Home Entertainment for their sponsorship of this contest.
Congratulations!
Elizabeth