Trivia Contest #40
June 20, 2004:
The results of Reel Classics' fortieth Trivia Contest are now official. The winners were chosen randomly from over 400 correct entries and will be receiving their prize in the mail shortly. Congratulations to the following Reel Classics patrons (and if you didn't win this time, keep visiting Reel Classics so you don't miss the next giveaway):
Trivia Question:
Which two featured performers were making their screen debuts when they appeared in THE BEST YEARS OF OUR LIVES (1946)?
Answer:
Harold Russell and Cathy O'Donnell.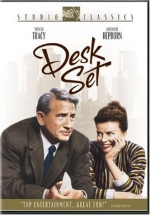 Answer location:
The answer to this question could be found on page 3 of THE BEST YEARS OF OUR LIVES section at Reel Classics.
Winners:
Chenoa McKnight
Richmond, Texas
Dianne Johnson
Denver, Colorado
Barbara Raeuber
Mill Valley, California
Eileen Main
Mystic, Iowa
Matt Murphy
Boise, Idaho
Prize:
A Special Edition DVD of DESK SET (1957) courtesy Fox Home Entertainment.
The winner will be notified by email, and prizes will be sent out shortly thereafter, following confirmation of delivery information.
Special thanks to Fox Home Entertainment for their sponsorship of this contest.
Congratulations!
Elizabeth