Trivia Contest #37
April 18, 2004:
The results of Reel Classics' thirty-seventh Trivia Contest are now official. The winners were chosen randomly from over 200 correct entries and will be receiving their prize in the mail shortly. Congratulations to the following Reel Classics patrons (and if you didn't win this time, keep visiting Reel Classics so you don't miss the next giveaway):
Trivia Question:
Name two actresses who won Academy Awards for their film debut performances.
Answer(s):
Julie Andrews
Shirley Booth
Marlee Matlin
Mercedes McCambridge
Tatum O'Neal
Anna Paquin
Eva Marie Saint
Gale Sondergaard
Barbra Streisand
Jo Van Fleet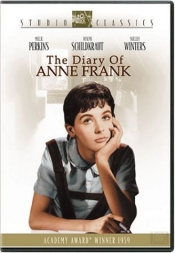 Answer location:
Two of the possible answers to this question could be found on the Julie Andrews main page or on the Mercedes McCambridge main page at Reel Classics.
Winners:
Janice Bashman
Dresher, Pennsylvania
Linda Hildebrand
Frederick, Maryland
Tom Wick
West Covina, California
Shirley Baldwin
Tulsa, Oklahoma
Mark Lipton
Macon, Georgia
Prize:
A DVD of THE DIARY OF ANNE FRANK (1959) courtesy 20th Century-Fox.
The winner will be notified by email, and prizes will be sent out shortly thereafter, following confirmation of delivery information.
Special thanks to 20th Century-Fox for their sponsorship of this contest.
Congratulations!
Elizabeth