Trivia Contest #24
July 6, 2003:
The results of Reel Classics' twenty-fourth Trivia Contest are now official. The winners were chosen randomly from over 100 correct entries and will be receiving their prize in the mail shortly. Congratulations to the following Reel Classics patrons (and if you didn't win this time, keep visiting Reel Classics so you don't miss the next giveaway):
Trivia Question:
For which of his six films with John Wayne did composer Dmitri Tiomkin win an Academy Award for Best Musical Score?
Answer:
THE HIGH AND THE MIGHTY (1954).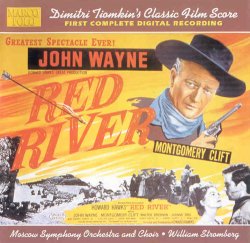 Answer location:
The answer to this question could be found on page 1 of the John Wayne section at Reel Classics.
Winners:
Kim Westgaard
Crystal Lake, Illinois
Pete Karlovich
East Chicago, Indiana
Runners-Up:
Warren G. Via
Roanoke, Virginia
Lydia Mills
San Diego, California
Susan Alles
Glorieta, New Mexico
Prize:
A Soundtrack CD of RED RIVER (1948) courtesy The John Wayne Film Society. (Runner-up Prize: Free one-year membership in the John Wayne Film Society.)
The winners will be notified by email, and prizes will be sent out shortly thereafter, following confirmation of delivery information.
Special thanks to The John Wayne Film Society for their sponsorship of this contest.
Congratulations!
Elizabeth