Trivia Contest #22
May 4, 2003:
The results of Reel Classics' twenty-second Trivia Contest are now official. The winners were chosen randomly from over 170 correct entries and will be receiving their prize in the mail shortly. Congratulations to the following Reel Classics patrons (and if you didn't win this time, keep visiting Reel Classics so you don't miss the next giveaway):
Trivia Question:
In which of their father's films did four of John Wayne's children appear together?
Answer:
THE QUIET MAN (1952).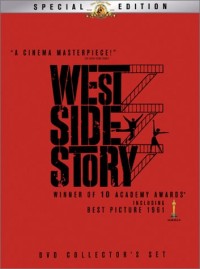 Answer location:
The answer to this question could be found on page 2 of the THE QUIET MAN section at Reel Classics.
Winners:
Nancy Jachcik
Fraser, Michigan
Martha Whittle
Sioux Falls, South Dakota
Michelle Costello
Riverbank, California
Prize:
A Special Edition DVD of WEST SIDE STORY (1961) courtesy MGM/UA Home Video.
The winner will be notified by email, and prizes will be sent out shortly thereafter, following confirmation of delivery information.
Special thanks to MGM/UA Home Video for their sponsorship of this contest.
Congratulations!
Elizabeth