Trivia Contest #19
February 3, 2003:
The results of Reel Classics' nineteenth Trivia Contest are now official. The winners were chosen randomly from over 200 correct entries and will be receiving their prize in the mail shortly. Congratulations to the following Reel Classics patrons (and if you didn't win this time, keep visiting Reel Classics so you don't miss the next giveaway):
Trivia Question:
What film did British Prime Minister Winston Churchill describe as "more powerful to the war effort than the combined work of six military divisions"?
Answer:
MRS. MINIVER (1942).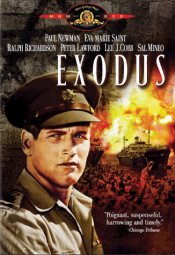 Answer location:
The answer to this question could be found on page 1 of the MRS. MINIVER section at Reel Classics.
Winners:
Sherrie Maner
Muskegon, Michigan
Mike Osweiler
Olympia, Washington
J.T.
Washington, D.C.
Dominic Laituri
Santa Barbara, California
Kam White
Boulder Junction, Wisconsin
Prize:
A DVD of EXODUS (1960) courtesy MGM/UA Home Video.
The winner will be notified by email, and prizes will be sent out shortly thereafter, following confirmation of delivery information.
Special thanks to MGM/UA Home Video for their sponsorship of this contest.
Congratulations!
Elizabeth