Trivia Contest #28
November 2, 2003:
The results of Reel Classics' twenty-eighth Trivia Contest are now official. The winners were chosen randomly from over 300 correct entries and will be receiving their prize in the mail shortly. Congratulations to the following Reel Classics patrons (and if you didn't win this time, keep visiting Reel Classics so you don't miss the next giveaway):
Trivia Question:
What popular television series of the 1960s was inspired by the FRANCIS, THE TALKING MULE films produced by Universal Pictures in the 1950s?
Answer:
"Mister Ed"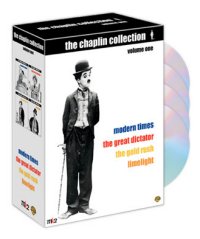 Answer location:
The answer to this question could be found on page 1 of the Donald O'Connor section at Reel Classics.
Winners:
Melissa Martin
El Paso, Texas
William Watkins
Troy, Virginia
Kyle Jantzen
New Rochelle, New York
Mike Berg
Marshalltown, Iowa
The Daves Family
Nesbit, Mississippi
Prize:
A 4-disc Boxed Set of Charlie Chaplin DVDs courtesy Warner Bros. Home Video.
The winners will be notified by email, and prizes will be sent out shortly thereafter, following confirmation of delivery information.
Special thanks to Warner Bros. Home Video for their sponsorship of this contest.
Congratulations!
Elizabeth