Trivia Contest #27
September 28, 2003:
The results of Reel Classics' twenty-seventh Trivia Contest are now official. The winners were chosen randomly from over 850 correct entries and will be receiving their prize in the mail shortly. Congratulations to the following Reel Classics patrons (and if you didn't win this time, keep visiting Reel Classics so you don't miss the next giveaway):
Trivia Question:
What child star of the 1960s shattered his/her squeaky-clean screen image by playing a brief nude scene in THE FAMILY WAY (1966)?
Answer:
Hayley Mills.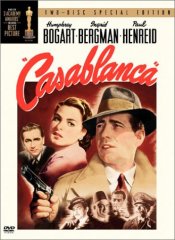 Answer location:
The answer to this question could be found on page 2 of the Hayley Mills section at Reel Classics.
Winners:
Roy Fushiki
Los Angeles, California
Kirsten Kimball
Graham, Washington
Karen Smith
Clarksville, Maryland
H. Higgs
Provo, Utah
Mason Jones
Trenton, New Jersey
Prize:
A Special Edition 2-disc 60th Anniversary DVD of CASABLANCA (1942) courtesy Warner Bros. Home Video.
The winners will be notified by email, and prizes will be sent out shortly thereafter, following confirmation of delivery information.
Special thanks to Warner Bros. Home Video for their sponsorship of this contest.
Congratulations!
Elizabeth