Trivia Contest #31
December 28, 2003:
The results of Reel Classics' thirty-first Trivia Contest are now official. The winners were chosen randomly from over 300 correct entries and will be receiving their prize in the mail shortly. Congratulations to the following Reel Classics patrons (and if you didn't win this time, keep visiting Reel Classics so you don't miss the next giveaway):
Trivia Question:
In 2002, CHICAGO's 13 Oscar nominations tied the record held by what classic movie for the most Academy Award nominations ever received by a musical film?
Answer:
MARY POPPINS (1964).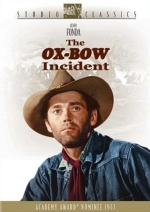 Answer location:
The answer to this question could be found on page 1 of the MARY POPPINS section at Reel Classics.
Winners:
Marte Engle
Mechanicsburg, Pennsylvania
Christine Wilbik
Kenosha, Wisconsin
Carol Drury
Leonardtown, Maryland
R. D.
Elk Grove, California
Henry Marshall
Cincinnati, Ohio
Prize:
A DVD of THE OX-BOW INCIDENT (1943) courtesy 20th Century-Fox.
The winner will be notified by email, and prizes will be sent out shortly thereafter, following confirmation of delivery information.
Special thanks to 20th Century-Fox for their sponsorship of this contest.
Congratulations!
Elizabeth