Trivia Contest #25
August 10, 2003:
The results of Reel Classics' twenty-fifth Trivia Contest are now official. The winners were chosen randomly from over 500 correct entries and will be receiving their prize in the mail shortly. Congratulations to the following Reel Classics patrons (and if you didn't win this time, keep visiting Reel Classics so you don't miss the next giveaway):
Trivia Question:
For which of her Oscar-nominated performances was Katharine Hepburn encouraged by the director to play her character like Eleanor Roosevelt?
Answer:
Rose Sayer in THE AFRICAN QUEEN (1951).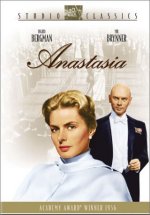 Answer location:
The answer to this question could be found on page 2 of the THE AFRICAN QUEEN section or at Reel Classics.
Winners:
Samuel Markum
Clear Lake, Iowa
Mark Boyer
Sacramento, California
Jennifer Capatina
Ladera Ranch, California
Suzanne Benedetto
Stony Brook, New York
Jackie Villano
Park Ridge, New Jersey
Prize:
A DVD of ANASTASIA (1956) courtesy 20th Century-Fox.
The winner will be notified by email, and prizes will be sent out shortly thereafter, following confirmation of delivery information.
Special thanks to 20th Century-Fox for their sponsorship of this contest.
Congratulations!
Elizabeth