Trivia Contest #12
June 30, 2002:
The results of Reel Classics' Twelfth Trivia Contest are now official. The winners were chosen randomly from over 30 correct entries and will be receiving the prize in the mail shortly. Congratulations to the following Reel Classics patrons (and if you didn't win this time, keep visiting Reel Classics so you don't miss the next giveaway):
Trivia Question:
Which classic movie actress set a Hollywood precedent by suing for and winning release from her 7-year contract with Warner Bros. in the mid-1940s?
Answer:
Olivia de Havilland.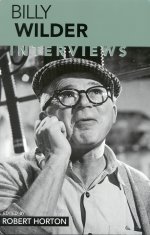 Answer location:
The answer to this question could be found on page 4 of the Olivia de Havilland section or on the Olivia de Havilland Biography page at Reel Classics.
Winners:
Rachel McConkey
Newport Beach, California
Bill & Marti Seberg
Silver Springs, Florida
Al Cunningham
Oak Lawn, Illinois
Prize:
A paperback copy of Billy Wilder Interviews edited by Robert Horton courtesy The University Press of Mississippi.
The winners will be notified by email, and prizes will be sent out shortly thereafter, following confirmation of delivery information.
Special thanks to The University Press of Mississippi for their sponsorship of this contest.
Congratulations!
Elizabeth