Trivia Contest #18
December 30, 2002:
The results of Reel Classics' eighteenth Trivia Contest are now official. The winners were chosen randomly from over 110 correct entries and will be receiving their prize in the mail shortly. Congratulations to the following Reel Classics patrons (and if you didn't win this time, keep visiting Reel Classics so you don't miss the next giveaway):
Trivia Question:
Which of Ginger Rogers and Fred Astaire's ten films together was originally to be shot in Technicolor, but wasn't, due to budget constraints?
Answer:
CAREFREE (1938).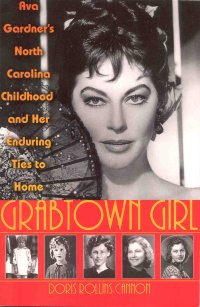 Answer location:
The answer to this question could be found on CAREFREE page of the Classic Screen Teams: Ginger Rogers & Fred Astaire section at Reel Classics.
Winners:
Romeo Guimond Jr.
West Hartford, Connecticut
Lisa Berkheimer
Erie, Pennsylvania
Rosemarie Bronko
Lehighton, Pennsylvania
Charles Randazzo
Wappingers Falls, New York
Richard Baynes
Baltimore, Maryland
Julia Winger
Albuquerque, New Mexico
Prize:
A copy of "Grabtown Girl: a biography of Ava Gardner" by Doris Rollins Cannon courtesy The Ava Gardner Appreciation Society.
The winners will be notified by email, and prizes will be sent out shortly thereafter, following confirmation of delivery information.
Special thanks to The Ava Gardner Appreciation Society for their sponsorship of this contest.
Congratulations!
Elizabeth