John Wayne
Awards | Downloads | Image Credits | Links | THE QUIET MAN
Wayne made five films with Irish actress Maureen O'Hara and several of their films together are among his most memorable. She certainly brought out his best romantic performances as an actor. At left is a still from their first film pairing, John Ford's RIO GRANDE (1950).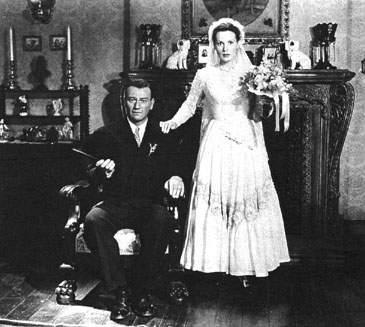 Together as Mary Kate Danaher and Sean Thornton in the Irish love story THE QUIET MAN (1952), the best of their films together, again directed by John Ford.
Memorable Quotations:
"Lady, I'd rather walk for somebody else than ride for you." --as Rocklin in TALL IN THE SADDLE (1941).
"If you can see them, they're not Apaches."-- as Captain Kirby York in FORT APACHE (1948).
"Never apologize. It's a sign of weakness." --as Captain Nathan Brittles in SHE WORE A YELLOW RIBBON (1949).
"There'll be no locks or bolts between us, Mary Kate-- except those in your own mercenary little heart!" --as Sean Thorton in THE QUIET MAN (1952) (a .WAV file).
"You want that gun? Pick it up. I wish you would." --as Sheriff John T. Chance in RIO BRAVO (1959).
"Women -- I never met one yet that was half as reliable as a horse." -- as Sam McCord in NORTH TO ALASKA (1960).
"He's almost as fast as I am." --as Tom Doniphon in THE MAN WHO SHOT LIBERTY VALANCE (1962).
"Oh, I know . . . I'm going to use good judgment. I haven't lost my temper in 40 years, but pilgrim you caused a lotta trouble this morning . . . mighta got somebody killed . . . and somebody otta belt you in the mouth . . . but I won't . . . I won't . . . the hell I won't!" --as G.W. McLintock in MCLINTOCK (1963) (a .WAV file).
"Don't say it's a fine morning or I'll shoot ya." --as G.W. McLintock in MCLINTOCK (1963).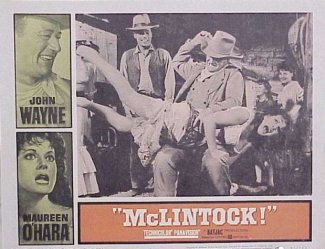 Paired again in the Old West, Wayne spanks O'Hara in MCLINTOCK (1963).